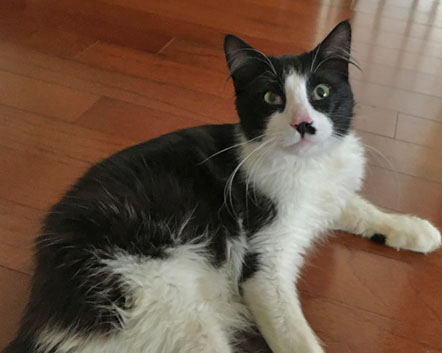 Hi! My name is Alex. I love to play! Sometimes, I see things that nobody else sees (I am perceptive like that!) so I do this funny little leap propelling off of all 4 paws and then land again. The volunteers think it's absolutely hilarious! It is great fun to slap and chase balls across the room I also like little squeaky mice and other things that encourage me to wait, shake my bootie a little, and then pounce. I think people are just totally awesome!! The vet techs fell in love with me when i had my surgery a little while ago. They said I was so funny and cuddly at the same time.
As you can see, I am super cute, with my huge, bushy tail that makes me look like a fox, cool! My ear tufts make me look wise like an owl, not sure how I feel about that. I will probably be a big cat because my paws are pretty large. Look into my full-of-mischief eyes; don't you want to take me home today to be your forever friend?!
Alex is an 8-month old male. He is neutered, combo tested, microchipped, dewormed, rabies shot given, one FVRCP remaining. If you are interested in adopting King Louie please submit a cat adoption form or feel free to contact us if you have any questions.