Pippi's Place Pet Rescue is a non-profit volunteer organization dedicated to reducing the number of unwanted cats and kittens through the support of local Trap-Neuter-Return (TNR) programs as well as placement of available felines in permanent homes.
We hope you will join our team by sharing your time, monetary resources, or both. Every volunteer hour and financial donation is meaningful as your contributions of time and money allow us to continue our important rescue work. Please read our special solicitation for volunteer coordinators.
Would you like to make a one-time donation? May we count on your support each month? Consistent donations allow us to strategically plan so that we may provide exemplary care to the pets in our program by taking in only as many animals as our resources will allow.
We accept electronic donations through PayPal. Checks may be mailed to: Pippi's Place Pet Rescue, 1290 Kelly Nelson Drive, Lawrenceville, GA 30043.
Pippi's Place is a tax-exempt public charity under the US Internal Revenue Code 501(c)(3). All donations are tax deductible to the extent allowed by law.
The cats thank you and so do we!
---
Chewy Shelters and Rescues Network
Pippi's Place is now listed with the Chewy (pet supplies) Network. You can check our listing at this link. This listing will increase the awareness of our organization on an national level. In addition, it will provide another way for you to help with our efforts, by buying needed items for us from our wish list on the Chewy site. Please consider helping.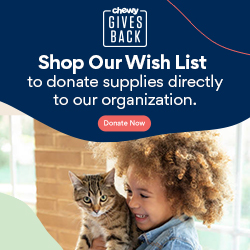 Donate
We need your financial help in caring for our animals. We can accept donations through PayPal. Use the button below.
Foster
We need people to provide temporary homes for our pets. Please consider helping us with this important task. To learn more, click on the button below.

Volunteer
There is always work to be done to care for the animals, to assist in fund raising, and to help the organization. To learn more, click on the button below.