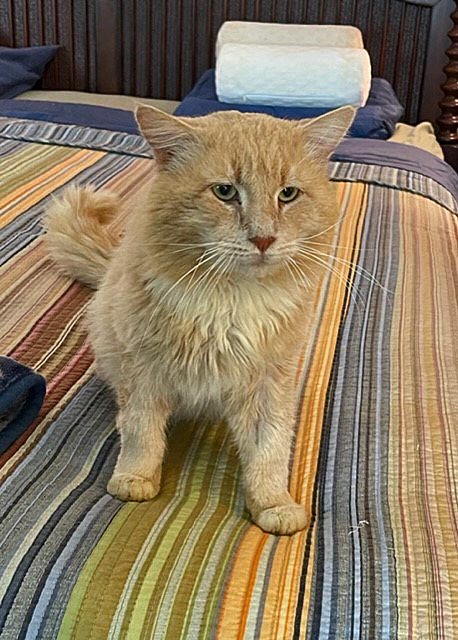 Hi! My name is Butter Bean. The nice people who rescued me said it would be great if I would tell you my story. A little while ago, I appeared on an urgent posting of cats in need of rescue at one of the local animal shelters. The people at Pippi's Place could not resist my sweet face because they could see my longing to be part of a family who will love me forever.
I am FIV+. I had to survive on my own for a while and got into some pretty bad fights. A nice lady started leaving food outside for me. She tried to invite me in but her own cats did not like me. I came to her door with pretty bad wounds sometimes and that made her sad. The nice lady eventually took me to the shelter because she was worried that I could not survive much longer by myself. It is OK that I am FIV+ because I can live a long, healthy life in a home where I am cared for and loved. The problem is that my teeth are in pretty bad shape right now. That is probably because I was not getting good food for a long time. The rescue people took me to the veterinarian and found out I am going to need a lot of dental work. The director lady told me how much it would cost and I thought it would be a good idea to let you too.
$480 for a basic dental including pre-anesthetic bloodwork and x-rays
$115 for each tooth extraction (I definitely need 4 pulled, maybe more)
$43 for an antibiotic injection during surgery
$15 for oral antibiotics after I get home
$75 for pain medication after I get home
$730 TOTAL
It is a lot of money and we could use your help.  I am so excited to get my teeth fixed because then I will be ready to go home! Will you please help me so that it can happen really soon?  Just click on the link below.  THANK YOU SO MUCH!!