"You'll love the feel of my soft velvet fur.  You'll love the sound of my rumbling purr. Once I have loved you, you'll never look back.  The reason for this…I AM THE BLACK CAT."

Author Unknown
Pippi's Place is thrilled to report that Saturday, September 4th, was truly the day of the BLACK CAT!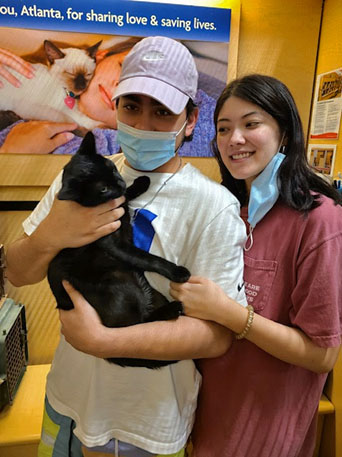 The day started off with joy as one of our volunteers at the PetSmart Adoption Center on Howell Mill Road reported that precious Catfish had found his forever home.  This young adult male so desperately craved love from his human companions that he would begin to drool when receiving their affectionate pets.  He cuddled in their laps for as long as they would stay enjoying their soothing voices and gentle strokes.  Catfish was ready for his forever family never to return to the isolation of an enclosure again. We knew his dream had come true when we saw the looks of adoration from his mom and dad. Have a wonderful life, sweet Catfish!
Adoption Day at Pet Supermarket in Lawrenceville was equally as joyful!  Three more beautiful black kitties found their way to wonderful forever homes including another adult and two kittens.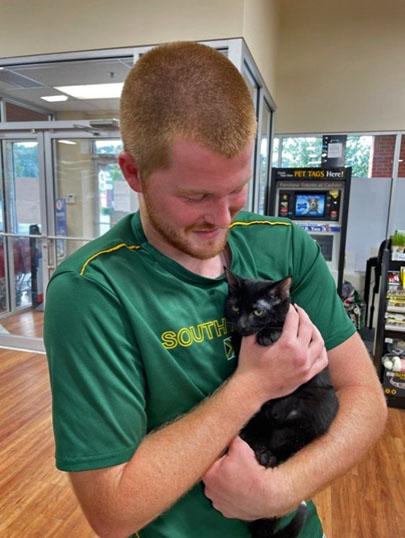 Little Harley went home with his new Dad who was so excited for mom to meet him when they got home.  Harley met his soon-to-be canine sister (a beautiful little Yorkie)  in the store and they hit it off beautifully. Oh, the fun they will have! We love you, Harley!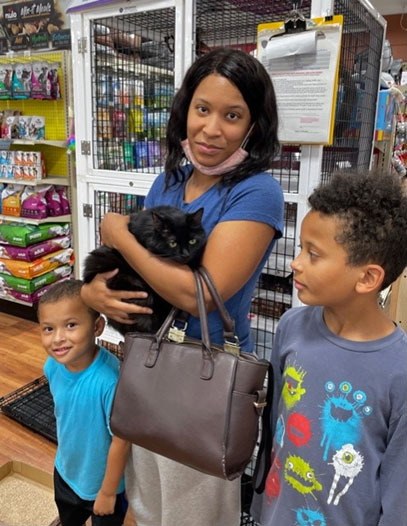 Oh, sweet Elsie!  This beautiful little lady found herself at Barrow County AC as a 5-year-old who had clearly been part of a family for most of her life.  This was apparent as she rubbed against the door of her enclosure begging for attention.  A foster volunteer took her home and immediately fell for her calm, affectionate nature.  Elsie went to Adoption Day on Saturday for the first time this past Saturday and found her new forever home immediately.  Her new mom held her close in her lap as she repeated, "I just love her spirit".  We all do.  Have a wonderful life little lady!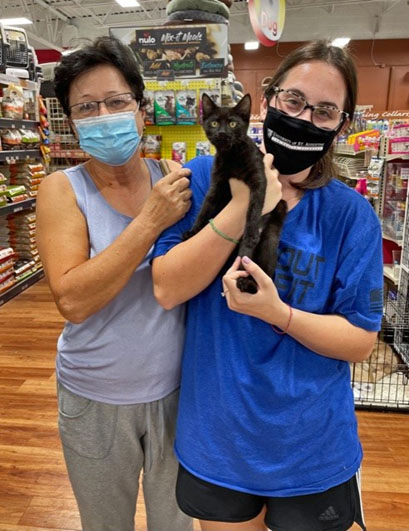 Tallulah was the final black kitty of the day to find her forever family! Her new mommy (on the left) saw this sweet little kitten and scooped her up immediately exclaiming, "Oh my, I just love her!".  She held her close until Tallulah's new sister apprehended her for the photo session.  Tallulah is blessed to find such a wonderful family.  We know she will bring them great joy with her sweet purrs and precious cuddles!